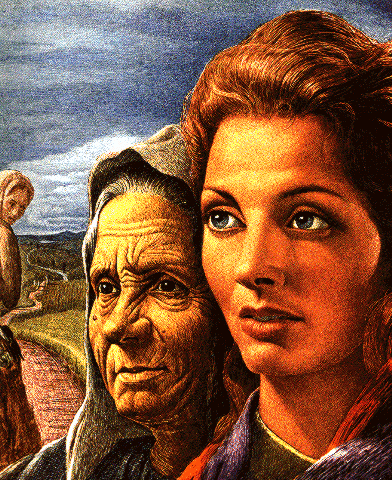 While learning from Ruth's life and her decisions, I find that someone has been playing a very important role, Naomi. I was reminded of her, by one of my readers. Naomi's life shows another aspect of a Believer's walk with God. A life that knows God, yet goes out of God's will and even comes back again to the Lord to find fulfilness.
Background:
Naomi left Bethlehem, in Judah with her husband, Elimelech, who had decided to go to Moab while there was famine.They had two sons with them. Naomi's husband Elimelech had originally planned to just sojourn(stay for a while) in Moab but later on we read that they lived there(
Ruth 1:2
) and their sons got married to Moabite women. In about 10 years of living in Moab, all the men in the family died, leaving Naomi, with the 2 daughters in law. Naomi decides to return to Bethlehem after she heard how God came down to help the people.She urges her daughters-in-law to return to Moab and find rest in the home of another husband (
Ruth 1:9
). Ruth comes with her anyway. Naomi enters Bethlehem, she is disheartened at the way life turned out for her and wants to be called Mara(
Ruth 1:20
). However God turns everything differently for her as is written in (
Ruth 4:14-15
)
What I see from Naomi's life
Lessons I learnt:
No matter how tough situation in life gets, there is no other refuge as wonderful as our Lord -Psalm 46:1 (Whole Chapter) "God is our refuge and strength, an ever-present help in trouble. "
When we turn around from our disobedience, our running away from the Lord and return to our Lord, He is ready and waiting for us to accept us-"

All that the Father gives me will come to me, and whoever comes to me I will never drive away

."

John 6:37

. Also like we read in the story of the prodigal son.
All so far, children walking in the will of God, always are a blessing to others and in return are themselves blessed. The blessings God bestows upon children who are willing and obedient to His call, fills them and overflows as blessings into the lives of people.
God always waits for His children to return to Him, and has prepared a way out of our distress.As in Naomi's case, God had kept a kinsman-redeemer, Boaz for her when she returned. God has kept, our Redeemer, Lord Jesus, ready and waiting for us to return to our Lord that He may redeem us from our poverty, distress, loss, debt and everything else.
Though Naomi thought all was lost and gone, there was something Ruth found in her, she found a tiny seed of faith in God somewhere in the midst of Naomi's distress. In a brief moment, Naomi thought the Lord had done all that harm to her, but I think they were all because of disobedience and continually staying out of God's will. In Deuteronomy 30:19 God says "I call heaven and earth to record this day against you, that I have set before you life and death, blessing and cursing: therefore choose life, that both thou and thy seed may live: " The choice to stay with the Lord or go away from Him at any situation in life, always remains with us.
I learnt from Naomi's life, how these choices can affect our life. We cannot blame God for our wrong choices. He is willing to let us know which way we should go, if only , we would wait and listen. God has a plan of blessing for us, a plan of redemption from any situation, our redemption is in Lord Jesus our Redeemer. The Door is always open, are we willing to return and go back to our Lord, to meet our Redeemer Lord Jesus?